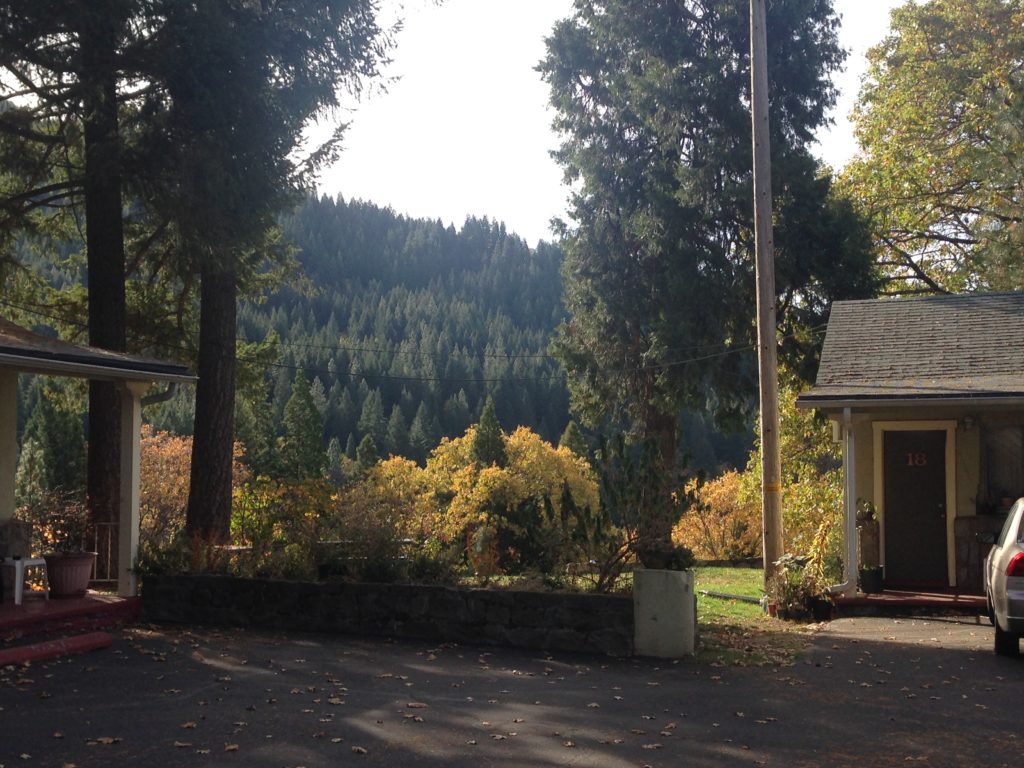 Just a quick reminder that the Fall colors are here, and cool, sunny days abound. Check out what's happening below.  Reserve a room for the weekend.
A Thanksgiving Special:
Through Thanksgiving weekend, I'm offering 10% off of any new reservations two days, and 15% for three or more days from now until Thanksgiving. Book now.
Come enjoy the cool weather, our fine restaurants, music, uncrowded lakes, waterfalls, rivers and trails like Castle Crags, Mossbrae Falls, Hedge Creek Falls, and if you're in to fishing, Upper Sacramento River (Visit Ted Fay Fly Shop for the best fishing holes!) For an EASY THANKSGIVING, stay here and enjoy Thanksgiving Dinner at the Mount Shasta Resort. They'll even have prime rib! Ask Eric where to go for postcard-worthy pictures, or a nice hike, or choose your own adventure.
Events in Dunsmuir and Surrounding Areas
November 9, 10, 16, 17, 7 pm 
November 11 & 18, 3 pm
Little Shop of Horrors, a Musical
College of the Siskiyous Ford Theatre in Weed
Sunday, November 11
3- 5 pm
The Lone Arranger
Dunsmuir Brewery Works
Friday, November 16,  7 pm
Hiroya Tsukamoto – Guitar /Composer
Pops Performing Arts & Cultural Center, Dunsmuir
Saturday, November 17
7 pm
Anna Reperto & the Scott Durbin Band (Sophisticated Jazz)
Pops Performing Arts & Cultural Center, Dunsmuir
7:30 pm
Tom Scott & Leslie Tift (Acoustic Duo)
Dunsmuir Brewery Works, Dunsmuir
Friday, November 23
8 pm
Castle/Hellametal
Spirits Bar, Dunsmuir
December 1, 2018
Candle in the Canyon
Parade, Crafts for Kids, Candle Lighting
Dunsmuir
Thursday, December 6th, 7:30 pm
Open Mic Night
Dunsmuir Brewery Works, Dunsmuir
Friday, December 7th, 6:30 pm
Allison Scull & Victor Martin (Guitar, Saxophone and Vocals)
Dunsmuir Brewery Works, Dunsmuir
Thursday, December 13th, 7:00 pm
Blues Legend Johnny Rawls
Pops Performing Arts & Cultural Center, Dunsmuir
Monday, December 31st, 9 pm
Sound Advice Dance Extravaganza
Pops Performing Arts & Cultural Center, Dunsmuir
Monday, December 31st
Cafe Maddalena will be offering a special New Year's Eve Dinner. Call (530) 235-2725