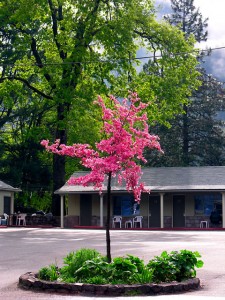 WELCOME to Dunsmuir Lodge, with an EV charging station on Interstate 5. Located near the Sacramento River, with renovated cottage-style rooms and off-street parking, our motel is the perfect place to stay while you enjoy the natural beauty of the Mt. Shasta area. We have standard king rooms, rooms with two full beds, or accommodations with multiple beds for the entire family. Be sure to ask us about our options.
EV Charging Station, Pet Friendly, Cannabis Friendly (Smoking outside ok)
Whether it's fishing in northern California, or any other outdoor activities, we have comfortable and immaculately clean rooms to greet you–and we invite you to bring your pet with you for your stay. We have park-like setting out back with acres for your dog to roam and a BBQ area with campfire pit for you to enjoy. Although all of our rooms are smoke-free, smoking is allowed anywhere outdoors here, and we are a cannabis friendly property.  Our rooms are reasonably priced, and we know that you will be glad you stayed with us. We will make you feel welcome and very comfortable while you are here at Dunsmuir Lodge.
Our motto is: Once a guest, always a friend. If you're looking for lodging in Northern California by Mount Shasta, make your reservations soon! Whether you're here for business, just passing through, fly fishing on the Upper Sacramento River, or skiing and snowboarding at Mt. Shasta Ski Park, we look forward to seeing you. We are easy to find and have just what you need.