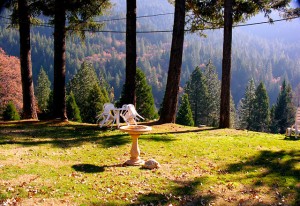 Dunsmuir Lodge is situated on over four acres of land. We have a beautiful meadow in which to play, walk, or explore with your family. Here in the Upper Sacramento River Canyon you can enjoy the days and the nights at the Lodge or out and about enjoying the surrounding forests and outdoor activities. With much to see and do, we will make you right at home. Sit out back on our lawn and watch for deer that come up to feed in the evenings and in the early mornings. The beauty of the forest across the canyon and down along the river renews tired bodies and stressed souls. There are abundant and bright stars unhampered by bright city lights at night for your enjoyment.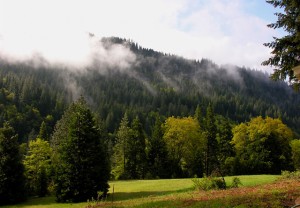 There are two types of amenities here; those provided by Dunsmuir Lodge and those that come with the territory. Those that come with the territory include quiet nights with no sirens or jet landings, air pollution, and best of all, the best water on earth. In the mornings you can see spring mist in the mountains behind the motel, and at night you can feel the cooling shadows as they descend on the meadow and the forest beyond.
Dunsmuir Lodge provides a pet friendly atmosphere which goes beyond "friendly" to a cheerful "welcome!" and an occasional doggie treat from the housekeepers. We have designated places to walk your pet and we ask only that you clean up after your pet inside and out.
A note about pets
Over the past year we have noticed that many more people are traveling with one, two, three or MORE pets. Since our rooms are somewhat small and pets cannot be on the beds, we find we now must charge a reasonable registration fee for pets.

We charge a small, per night, per pet fee of $10 at the Lodge.

For more information, review our Guest Reminders.
Almost without exception, we have found pets to be very well mannered here at the Lodge. Since we are very proud of our high standard of cleanliness we must be realistic about the amount of additional cleaning that is required when we are pet friendly. Many humans are sensitive and possibly allergic to animal smells, so we spend extra time cleaning to make sure all who follow in the rooms find them very pleasant and clean. When you make a reservation with us, ask about the pet policy and we will talk with you about the fees that apply.
Along with the "pet friendly" atmosphere we have the following creature comforts:
Air conditioning in each room
Cable TV
Free Wireless Internet Service
Speed Dialing set up on your room phone for local restaurants
New, King Beds (Some Queens avail. and Full beds in rooms with 2 beds)
Small refrigerators in each room
Outdoor BBQs for your fresh trout, steaks and S'Mores!
In-room coffee (Frappuccino mix, tea, and hot chocolate in season / or on request)
Ice and soda machines (of course!)
Hair dryers and clothing steamer upon request
A place to clean your fish, which we can store in a freezer for you until you leave.
Please review our rooms for other amenities.
You will find our rooms cozy, clean, clean, clean, and very comfortable, with new beds and extra pillows for your enjoyment.